By Nicholas Asheshov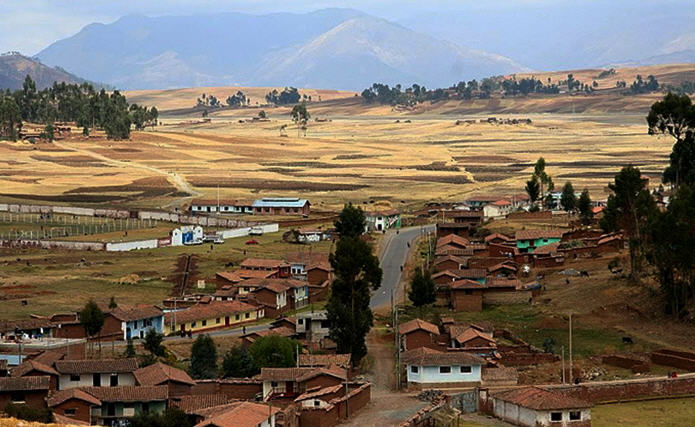 The long-running Chinchero Airport saga stumbled into a new level of confusion as the Kuczynski government agreed to buy 99 more hectares of freezing llama pasture for car parks, bars and motels.
The price, negotiated in a haze of altitude sickness this past week in a quickie visit by Bruno Giuffra, bombastic Minister of Transport and Communications, with smiling Quechua comuneros was $32/m2, 200 times, give or take, the commercial value of the land. It is, also, half again as much as the Cusco Regional government paid in 2013 for 357 neighboring hectares.
It is here that Lima bureaucrats and Cusco businessmen fantasize about gleaming runways stacked with roaring B747s, B777s and Airbus 340s full of tourists, hopefully without too much in the way of heart failures and altitude-induced vomiting as passengers step out into the fog and hail of the high Andes at 3,800m above sea level, 12,500ft a.s.l.  A few yards away stand in dignified reality, a Listed Inca citadel, a fine collection of 700-year-old stone terraces and the most evocative of Cusco's Colonial churches, perched majestically above the plateaux and glaciers of the Machu Pichu hinterland, not to mention a pueblo thick with tradition-laden alpaca UNESCO-protected weavers.
The land for the B747s, the B777s and the Airbus 340s is essentially valueless except to the group of Cusco politicos who have persuaded gullible, under-informed politicians in Lima to push and pay for their dangerous multi-million pork-greased boondoggle. Three of the top Cusqueños directly involved in payments are either in jail or under long-term sentence for corruption and, in one case, rape as well. One has been on the Ministry of the Interior's Most Wanted Criminal list.
The Chinchero confusion was worse confounded this week as Kunturwasi, the underfunded hopefuls contracted in 2014 to build the airport, refused to hand to the government its legal title to the airport land.
The land claim is part of a new international arbitration case filed by Kunturwasi against the government for hundreds of millions of dollars in damages. Minister Giuffra angrily accused Kunturwasi of sequestering government-owned land. The underlying right, which will be decided by the arbitration court remains eventually with the Ministry of Transport and Communications, though legally it is all under the control of the Ministry of Culture.  Whatever, no one can legally build anything much less an airport on this land without the OK of Kunturwasi.
This was a new banana-skin by the government in a whoops-heavy farce running over the past few years. This past year the Kuczynski government has been in a jaw-dropping financial and political spat with Kunturwasi during which three ministers and a Comptroller, so far, have lost their jobs. One, Martin Vizcarra, Vice President of the Republic no less, was even banished to Canada.
All for a dangerous, unwanted project which makes no commercial or technical sense. Were an airport to be constructed at Chinchero's 3,800ms a.s.l. it would be the highest, most dangerous and commercially inefficient in the world. Landings and takeoffs become rapidly more costly for each meter at these abnormal heights. Others at these heights include a ring of Chinese military airfields in and around Tibet, and closer to home El Alto, Bolivia and Juliaca, Puno on either side of Lake Titicaca, good only for short feeder hops.
This would be the case, too, with Chinchero. The Cusco promotors have taken to calling Chinchero 'International' but this is a PR fancy. Cusco's present airport lies at 3,225m a.s.l. and even though this is a significant 550ms lower than Chinchero its only international service is to Bogota, 150 mins of flight time away.
The correct strategy for Cusco and the government is to modernize this first-rate option, the present airport, which, with 240 hectares has, with today's electronics, the capacity for upgrading for two, three decades into the future. The problem with the present airport is it is today ringed by Cusco suburbs and Cusco developers want the land for what they call 'urban expansion.' Chinchero is 20 miles outside town on the way to Machu Picchu. Cusco in any case already cannot handle the tourists it already has, much less cope with a supposed new influx brought by a new airport. This week CNN told its listeners to stay away from Machu Picchu and its hectic 5,000 per day noisy, unruly crowds and whistle-blowing guards.
The sequestered land is made up of 396 hectares for which the Regional Cusco government spent $225mn in 2013, $23/m2. This money had originally been earmarked for schools and hospitals but was illegally sequestered, to use the minister's term. A new Urubamba government hospital, for instance, a few miles down the road from Chinchero functions as a cheap restaurant There is no money for medical equipment or medicines. A new hospital in downtown Cusco, A. Llorena, has collapsed in corruption and incompetence by the same Regional Government that is promoting the Chinchero 'airport.' Chinchero is, in fact, part of the slide of Cusco over the past few years into the same kind of dysfunction as Lima itself.
The good news, at least, is that despite the sequestering of three or four hundred million dollars not a shovelfull of work has been done on the proposed airport. Kunturwasi says it has done engineering studies but the government's own watchdog, the Comptroller General, reports that the engineering studies are "totally inadequate."
The geology of the Chinchero massif is pockmarked with limestone caverns. Chinchero is plagued by stormy mountain weather. The dramatic Cordillera Urubamba, whose glaciers and snowpeaks reach to over 6,000m, looms over the proposed airport site.
The government, in Lima and Cusco, has ridden rough-shod over the objections of archaeologists and conservationists. If the airport project were to go ahead, Chinchero would join Ollantaytambo, Machu Picchu and Cusco itself on the emergency endangered list. Ollantaytambo, an ancient Inca pueblo has collapsed, according to Ministry of Culture officials, in a melee of destruction and traffic fostered by tourism providers and the regional government op cit.
Alonso Segura, a former Minister of Finance 2014-16, who was not involved in negotiating the Chinchero project, told a Lima radio he hoped the arbitration court would not give Kunturwasi the $265mn it is claiming, but said he feared this might be the result. The court is likely to take three, perhaps four years to reach a decision. Supervising engineers for the project on behalf of the government is Graña y Montero, some of whose directors are in jail on implied charges of corruption related to Odebrecht and other Brazilian companies. One of these reneged on the Lorena hospital in Cusco. Odebrecht itself has confessed to paying a bribe of $1.25mn to Jorge Acurio, the Cusco Gobernador who paid the $225mn in public funds to buy the Chinchero land in 2013. Acurio is in jail on remand.
*This article has been corrected — we initially indicated the price paid for an additional 99 hectares was $32 million (second paragraph) instead of $32 per hectare. 
Nick Asheshov was editor of the Andean Air Mail & Peruvian Times during the 1970s and 1980s, and of The South Pacific Mail, Santiago during the 1990s.  He was Latin America Editor of Institutional Investor, New York over the same period.  He lives in Urubamba, where he writes a blog and where he has been prominent in the hotel and railway business.
Asheshov's earlier articles on the Chinchero airport project:  Lost in the Clouds of Poor Engineering and Bad Finance published Jan.26, 2017; and The Chinchero Cargo Cult Boondoggle, published May 3, 2017.