Corruption in Peru results in annual losses of almost 10 billion soles ($3.5 billion), representing about 2 percent of the country's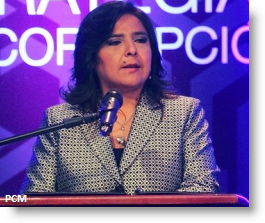 gross domestic product, Prime Minister Ana Jara said.
"With that amount, we could have built 72 hospitals in the country or 360 modern schools, or created more than 200,000 jobs," Jara said, according to RPP Noticias.
Jara made the comments prior to the start of an international anti-corruption conference being held in Lima on Thursday.
Corruption has been a long-standing issue in Peru, with one former President in jail and two others facing accusations of wrongdoing.
More recently, corruption in Peru's regional governments have been in the spotlight with a number of regional presidents detained over accusations that they misused and profited from public funds.
Jara said that currently 22 of the 25 regional presidents are being investigated over allegations of corruption.
"Of those being investigated, four of them are in prison for alleged crimes against the public administration," Jara added. "Among them are the regional presidents of Ancash, Pasco and Cajamarca, with the regional president of Tumbes as a fugitive."   The regional president of Ancash is also being charged with extortion and possibly murder.
Jara said that the pursuit of charges against these officials is a sign that President Ollanta Humala's administration is cracking down on corruption.
Comptroller General Fuad Khoury proposed peer pressure and encouraging social values to begin to diminish corruption.
Swedish researcher Bo Rothstein said at the conference that the countries that have successfully controlled corruption have implemented an "explosion of reforms" and that these reforms were sufficiently strong for citizens to see the changes.
Rothstein said that traditional anticorruption policies have failed because they are based, for example, on the believe that it is a problem of incentives.   However, studies at the university have shown that effective anti-corruption policies need to consider four measures — an extensive tax system because those who don't pay taxes might not care about corruption, universal education, employment and promotion of public servants based on merits, and gender equality to signal impartiality.
He also stressed that the ethical theory that eliminating corruption requires a higher standard of education has not worked — in reality, people who commit acts of corruption are aware that what they are diong is wrong and do it because they see no other solution.