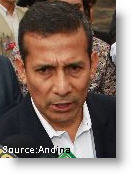 President Ollanta Humala is expected to walk a fine line in his second year in office as he aims to resolve social conflicts in the mining sector by promising better dialogue with protesters, while maintaining the rule of law.
Humala, who will complete his first year in office on July 28, made several changes to his cabinet on Monday in a move that was widely seen as an attempt to end protests. Humala appointed Juan Jimenez, the former Justice Minister, as his new cabinet chief, replacing Oscar Valdes, a former army officer.
Valdes was appointed as cabinet chief in December, replacing Humala's first prime minister, Salomon Lerner Ghitis. Both cabinet chiefs were unable to resolve a dispute over gold producer Yanacocha's Minas Conga project, which will be a priority for Jimenez.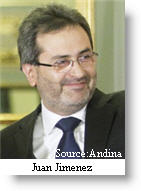 Jimenez said, following his swearing in ceremony this week, that the cabinet will be one of dialogue, while Humala repeated that on Tuesday.
"Just as minister Juan Jimenez has already said, we are going to put more effort into strengthening dialogue, but while respecting the principal of authority," Humala said, according to daily El Comercio.
An immediate change was the name of the Conflicts Office at the Presidency of the Council of Ministers, which Jimenez has announced is now to be known as the Dialogue Office.
Peruvian brokerage firm Inteligo said Jimenez is expected to be "a more moderate negotiator than Valdes."
"However, he might find some resistance in the opposition as some political parties have criticized his appointment," the brokerage said.
The Eurasia Group, a global consultancy with headquarters in New York, said the cabinet change is unlikely to bring about major policy changes, and that social conflicts in the mining sector will remain high.
"The government's overall strategy to confront social conflicts does not seem to have changed, so social tensions, especially in relation to Yanacocha's… Minas Conga project will likely remain high," the consultancy said.
It added: "To a certain extent, protesters may feel emboldened by the fact that they were able to withstand government pressures and force Humala's hand, which means they will have few incentives to compromise."