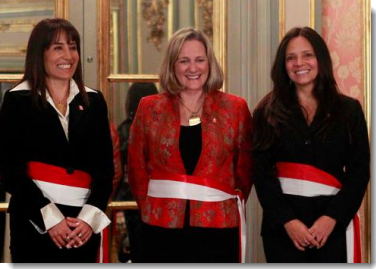 President Ollanta Humala swore in three new cabinet members on Wednesday, a few days before the 51-year-old former military officer completes his second year in office.
In the post of Minister of Development and Social Inclusion, Humala appointed economist Monica Rubio (right, in the photo), who replaces outgoing minister Carolina Trivelli. Rubio is a former official of the Inter-American Development Bank in social protection issues, with experience in public finance and decentralization issues. She has a doctorate in economics from Duke University.
Foreign Trade and Tourism Minister Jose Luis Silva is replaced by Magali Silva (left, in the photo), an economist and most recently deputy minister for Small and Medium Businesses in the Ministry of Production. Silva, who has a master's degree from the University of Oregon, has also held posts in the Central Bank.
Culture Minister Luis Peirano also resigned, and is replaced by Diana Alvarez-Calderón, who was most recently an adviser to the Municipality of Miraflores and has executive experience in a number of institutions, including the conservation trust of the National Archives. Alvarez-Calderón has also worked in the Defensoria del Pueblo and Peru's Justice Ministry during the administration of ex-President Alejandro Toledo.
The three new appointments, all women, now gives an equal number of women and men in President Humala's cabinet. Humala completes the first two years of his five-year term on Sunday.