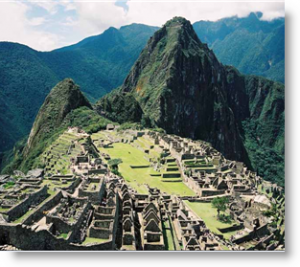 Peru's sacred Inca citadel Machu Picchu has been named South America's Leading Green Destination in 2010 by the UK-based World Travel Awards.
"This award shows that the tourism sector has an impact on the country's economic, social and environmental development," state news agency Andina reported Rocio Merino, the director of tourism at state agency PromPeru, as saying.
Argentina's Patagonia, the Pantanal tropical wetland in Brazil, and Guyana's Georgetown were nominated for the award, among others.
Other Peruvian sites that received awards include Lima's Jorge Chavez International Airport for South America's Leading Airport. It overtook nominations from the international airports in Brasilia, Buenos Aires and Santiago.
Machu Picchu was declared a UNESCO World Heritage Site in 1983. It is located in southern Peru's Cuzco department, surrounded by a tropical forest where it is perched on a mountain some 2,430m above sea-level on the eastern slopes of the Andes.
It is the South American country's top tourist destination, attracting hundreds of thousands of visitors every year from around the world.