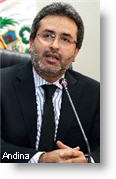 Peru's government aims to cut down on half of the bureaucratic procedures by the end of President Ollanta Humala's term in 2016, according to a report by state news agency Andina.
The Executive approved on Friday a national plan that aims to decrease the public-sector procedures by 50%, making life easier for citizens and economic actors.
Businesses often complain of long delays to receiving permits, which they say has impacted the schedule of investment projects. Meanwhile, ordinary citizens are accustomed to long-lines and often confusing or overlapping procedures involved in paper work at public agencies in Peru.
The government wants to simplify the procedures as part of its government modernization plan.
One strategy for doing so is through annual campaigns that awards residents for pointing out areas where red-tape can be limited.
On Thursday, the prime minister's office launched an initiative that will award 30,000 soles (about $11,500) to the best suggestions provided by individuals or groups on cutting back bureaucracy.
The initiative will allow the state "to know what the citizen's vision is regarding how the public sector should function," said cabinet chief Juan Jimenez.