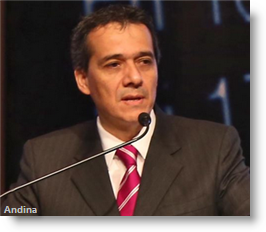 Peru's government has taken several measures to reboot the economy, and now Finance Minister Alonso Segura says businesses have a responsibility to step up and invest.
Segura, speaking at a financial industry event, told business leaders that the "ball of growth" was now in their court, daily Gestion reported.
"What about you?" Segura said to the audience. "The government has taken actions, we are playing for growth but we can't do much to grow 5% or 6% if private investment isn't invigorated."
"The ball is also in your court, señores," he said.
Peru's economy will likely grow about 3% this year, down from 5.8% in 2013 and over 6% in other recent years. South America's strongest economy over the past decade has been impacted by lower demand for its raw materials, like copper, in international markets.
The government has announced several reforms to facilitate growth, including lowering taxes on some individuals and companies and reducing the processing time for environmental permits.
Segura said he is confident that Peru's economy will recover next year, and grow above 5%. He emphasized, however, that the government can't boost growth on its own.
"The good news is that there will be a lot of liquidity in the economy," Segura said. "But we aren't playing this game alone. You, the investors, will make it possible to achieve greater growth."