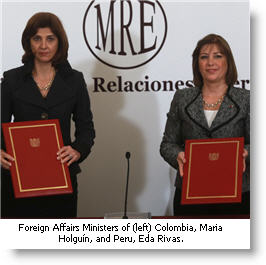 Peru and Colombia signed an agreement on Monday to work together to combat illegal gold mining, which has ravaged parts of the Amazon rainforest, Peruvian state news agency Andina reported.
The agreement was signed by Peruvian Foreign Relations Minister Eda Rivas and her Colombian counterpart, Maria Holguin, who was in Lima on an official visit to several countries.
Peru and Colombia have struggled with similar illicit activities. For example, the two countries have been known for years as the world's top producers of cocaine. The drug trade in both nations has financed the activities of leftist rebels, which are much bigger in Colombia than Peru.
Added to the list of shared troubles in recent years is illegal gold mining, which is causing serious environmental damage in the Amazon rainforest, that also have major political and social consequences. Human trafficking, forced labor and underage prostitution are some of the problems associated with the spread of illegal mining.
In Colombia, analysts say that leftist rebels and rightwing paramilitary groups are also increasingly involved and profiting from unregulated mining. In Peru, high-level government officials have warned that armed gangs could sprout up to protect the interests of the illegal miners. Economists estimate that illegal gold mining generates more profits than cocaine trafficking in Peru.
"We have, like Peru, a very big commitment to prevent this from expanding and to not destroy our rivers and wonderful Amazon," said Colombia's Hogluin. "What's going on in illegal mining is organized crime," she added.
No details were given on how Peru and Colombia plan to work together to combat illegal mining.