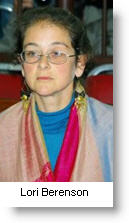 A Peruvian appeals court has upheld the November parole of American Lori Berenson, who had spent the past 15 years in prison for aiding leftist MRTA rebels in the 1990s.
The three judge panel rejected state prosecutor Julio Galindo's request for Berenson to be returned to prison.
"I recognize my responsibility for the crime I committed and I am regretful for it," Radioprogramas reported Berenson as saying. "I'm not doing anything against the law. If I am out it is because I've had psychological studies for my good behaviour in prison where I have worked and studied."
Berenson was released in November by Judge Jessica Leon as the New Yorker was eligible for parole after serving three-fourths of her 20-year sentence.
Leon initially released Berenson in May, but she was sent back to prison after a court ruled in favor of prosecutors arguing that penitentiary officials miscalculated the time served on her sentence. Her parole paperwork also failed to correctly to list the address of the Miraflores apartment where she planned to reside.
Berenson has been living in Lima's Miraflores district with her baby boy, Salvador, who was born and had been living in prison with his mother.
She will be required to stay in Peru until she completes her sentence. President Alan Garcia had previously hinted that he may commute the remaining five years of her sentence and send her home to the United States.
The MRTA was one of two leftist rebel groups active during the 1980's-1990's. However, it  was much smaller than the Maoist Shining Path insurgency and was responsible for 1.5 of the victim deaths reported by the Truth and Reconciliation Commission, CVR.