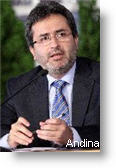 Peru's government has denied that it is using the national police's intelligence division to discredit political opponents, after accusations from analysts and prominent politicians, state news agency Andina reported.
"We consider these accusations offensive, they are creating an environment of political instability… and they are very harmful to the economic stability of the country, which the government seeks to maintain," Prime Minister Juan Jimenez said in a press conference, accompanied by Peru's Interior and Defense ministers.
"We call on all [political] opponents, who have every legitimate right to monitor, that they do so, but with evidence and not with false, damaging insults," he added.
"It is extremely grave to accuse the government of committing acts that go against the constitution and the law," said Defense Minister Pedro Cateriano.
The statements come in the wake of a media frenzy of accusations of possible wrongdoing by former President Alejandro Toledo in financial transactions, after his mother-in-law Eva Fernenburg purchased real estate in Lima for over $4 million; and the ongoing investigations into allegations of corruption during President Alan Garcia's 2006-2011 administration that could lead directly to Garcia himself. 
Political analysts and opposition politicians have speculated recently that a number of scandals involving previous presidents is being driven by people inside the government intent on discrediting the former officials from running for office again in 2016.
The accusations bring back comparisons to the corruption-riddled administration of former President Alberto Fujimori, whose right-hand man, Vladimiro Montesinos, used the National Intelligence Service to spy on and bribe or blackmail political opponents and journalists, as well as operate mud-slinging campaigns against them.
Fernando Rospigliosi, a political analyst and interior minister in Toledo's administration, said that the situation reminds him of the 1990s when Fujimori and Montesinos were in power.
"What is happening is going to become known and those responsible, as in the decade of the 90s, are going to pay the price," said Rospigliosi.
Since the fall of Fujimori and Montesinos, who are both serving prison time for corruption and human rights abuses, the network of intelligence apparatus continues to be used by independent or private operators, as has been proven in the Business Track BTR phone tapping services case, during Alan Garcia's recent administration.  The hacking has revealed corruption among high-level officials and businesses which is used —as in the BTR-PetroPeru case— to derail and embarrass politicians on the campaign trail.
Twice presidential candidate Lourdes Flores also said that recent events remind her of the intelligence abuse during the Fujimori administration.
Meanwhile, Alan Garcia, who is most likely to run for a third presidential term in the 2016 elections, has accused a top presidential aide, Roy Gates, of visiting Montesinos in prison regularly.
The speculation over whether the government is spying on political opponents is centered around the idea that President Ollanta Humala's administration is seeking to remove potential contenders and pave the way for First Lady Nadine Heredia to run for office in 2016.
Premier Juan Jimenez denied "for the nth time" this week that there is a government plan to change the law to allow a re-election of President Humala or for Heredia to be a candidate in 2016.  He added that he had clearly told the Congress so in April.
Humala, a former military officer, is constitutionally barred from seeking a consecutive term in office.