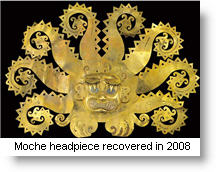 Peru has recovered 2,700 pieces of cultural patrimony over the past five years that were illegally smuggled abroad, according to the Ministry of Culture.
"We are the world's leader in repatriation, recuperation and in resolving cases," said Blanca Alva, the Ministry's director general of control and regulations, during a Latin American regional workshop being held in Lima this week by UNESCO and the Ministry of Culture.
The workshop, to strengthen capacities and awareness of antiquities smuggling, includes key speakers from a number of international and regional organizations, including Cmdr. Alberto Deregibus of the Italian police force, Marina Schneider of the Rome-based International Institute for the Unification of Private Law (Unidroit), as well as antiquities specialists and Interpol officials from different Latin American countries.     
"We are resolving an average of 10 cases a year," Alva said, according to state news agency Andina. "In the past few years, we have resolved almost 50 cases in 14 countries."
Alva said, however, that the government's main goal is to prevent the pieces from leaving Peru because the recovery process is costly.  Peru's Foreign Relations Ministry is responsible for covering the costs of recovering the pieces.
An iconic case was the recovery in 2008 of 270 pieces of pre-Columbian artifacts from the Patterson Collection found in Spain, a lengthy process that cost the Peruvian government $20,000 in legal fees and transport. 
The star piece in that collection is the Moche gold mask, with octopus-like tentacles, which was to be sold at auction. The asking price was $750,000.  
Alva said that many times, authorities are unaware that pieces have been taken out of Peru until they are put up for auction on the international market. "We find out about it when the piece is sold abroad," she said. "To repatriate it, we have to prove that it is ours."
The International Council of Museums says that illicit excavations of Peru's cultural antiquities from pre-Columbian civilizations and smuggling of objects from the colonial and Republican eras are on the rise, despite national and international legislation to curb the trafficking.
"Between 2004 and 2006, illicit exports of over 5,000 cultural and natural objects were intercepted," the ICOM said. "Nevertheless, the number of clandestine excavations at archaeological sites has increased, as have thefts from churches and museums."  ICOM has published a Red List of Peruvian antiquities at risk —the wide variety of artifacts and historical periods make it particularly difficult to provide adequate protection.
"Illicit trade in Peruvian cultural property causes irreparable damage to the country's heritage and identity, and constitutes a serious loss for the memory of mankind," it adds.