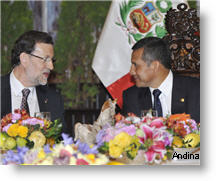 President Ollanta Humala and the president of the Spanish government, Mariano Rajoy, met on Thursday and agreed to work on facilitating investments in the two countries.
Rajoy arrived in Lima late Wednesday and met with Humala at the presidential palace the following morning.  Following the meeting, Humala told the press that the countries agree on further strengthening ties, including cultural, social and business relations.
"We've reviewed the economic panorama, the business situation, and we've demonstrated the political will to improve the conditions for our investors," Humala said in a televised speech.
One of Spain's largest investors in Peru is Telefonica, which has just renewed a contract for 19 years to provide telecommunications services throughout the country.
Rajoy, who was awarded the Order of the Sun by Humala, was elected to head the Spanish government in December 2011. The conservative politician has been charged with tackling Spain's economic woes, including its record-high unemployment rate.   On Thursday, Spanish officials released data showing a jobless rate of 26 percent.
Rajoy said during a statement following his meeting with Humala that his government will implement reforms to improve Spain's competitiveness. He also said that the government will extend unemployment benefits for the long-term unemployed.
"We're in a tough moment," Rajoy said. "There are still a lot of people who can't work."