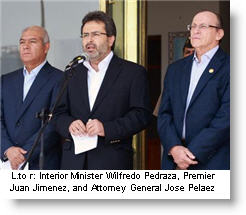 Cabinet chief Juan Jimenez is calling for new legislation that will allow the government to confront organized crime, state news agency Andina reported.
Peru needs an organized crime law similar to legislation in Colombia and Mexico, which would allow the country to disband gangs that have found ways to protect themselves from the justice system, Jimenez said.
"There are gangs that should be tackled differently from minor assaults," Jimenez said. "The moment has arrived to have an organized crime law like the laws in Colombia and Mexico."
Jimenez said that law enforcement needs legal mechanisms that would improve intelligence, such as tracking communications and developing undercover agents who can penetrate crime rings.
Violent crime in Peru is lower than many other countries in Latin America — such as Colombia, Mexico, Venezuela and several Central American nations — that have struggled with drug violence and street gangs.
While statistics show that violent crime in Peru is lower than many of the neighboring countries, the sense of insecurity is high in the Andean nation.
Recent data from Peru's national statistics agency says that 38 percent of Peruvians were victims of crime in the second half of 2012. A whopping 87 percent say they feel insecure and believe they will be a victim of crime.
Like all countries, organized crime in Peru takes many forms. Criminal gangs control the growing cocaine trade, illegal gold mining, illicit logging, and human smuggling, among other crimes.
It is, however, the sharp increase in the violence of urban muggings and assaults by more 'common' thieves working in gangs or groups that has raised the perception of insecurity. 
This week, President Ollanta Humala directly addressed the trend of gangs targeting individuals who withdraw large amounts of cash from banks in urban centers such as Lima. In a brazen robbery this week, three masked men stormed a notary public's office where they had followed a man who had just withdrawn 260,000 soles ($100,700) in cash to sign a sale contract. One of the men finalizing a transaction for the sale of house was killed in the attack.   A video of the attack, recorded by security cameras, shows a violent, but well-orchestrated assault. The criminals entered and left the office in about 25 seconds.
While government and bank officials say the incident could have been prevented by using banking services to transfer the funds, some experts say the problem is getting worse due to the "ineptitude" of the current and previous governments in tackling crime.   Widespread corruption within the security and judicial system is also a major problem.

"Citizen insecurity is bad today and it is going to get worse every day," said Carlos Basombrio, a former deputy minister of Interior and a director of the Institute for Legal Defense.
Basombrio said the reasons are clear for the decline in safety. "The economy is growing and there is more money and, as a result, a market for criminals," he told newspaper Peru.21. "At the same time, the state is incompetent, corrupt and inefficient in solving this problem."
Basombrio said there need to be reforms in the National Police and prison system, as well as in the Judiciary and Public Ministry, which oversees prosecutors.