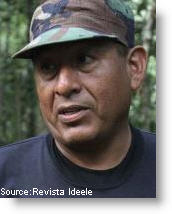 Florindo Flores, the captured leader of a Shining Path splinter group, has allegedly confessed to killing more than 130 people, according to newspaper El Comercio.
According to the daily, Flores, also known as Comrade Artemio, allegedly confessed to the killing of 56 soldiers, 43 police officers and 32 civilians between 1989 and 2011.
"I assume [responsibility] for everything," Flores reportedly said. "I assume them as the head of the Huallaga Regional Committee. What you have read (the killings) are incidents of war."
Prosecutors asked Flores why he had killed civilians, why they were "incidents of war."
Flores reportedly responded saying: "They weren't simply civilians. We are talking about informers, collaborators with the security forces, traitors to the party, criminals who extorted money from people using the name of our organization, common criminals and homosexuals."
Flores was the last member of the Shining Path's central committee to be captured. The group led a bloody insurgency against the state that resulted in the deaths of some 70,000 people. The Shining Path was responsible for about 54 percent of the victims.
Authorities have said that Flores will face a life sentence for his role in a number of killings and in drug trafficking.  Despite testimony from 13 Shining Path members arrested in previous years, Flores denies any links to drug trafficking and insists that he is a political leader only.
Attorney General Jose Pelaez says that Flores could be sentenced as early as August this year.