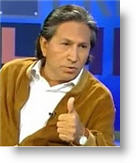 Former President Alejandro Toledo said Monday that his Peru Posible party will continue to support the ruling Gana Peru party, despite allegations of corruption against Vice President Omar Chehade, daily El Comercio reported.
Lawmakers from Peru Posible have backed President Ollanta Humala's Gana Peru party in Congress , where the party does not have a majority.
Chehade, a lawmaker and President Humala's second Vice President, has been accused of influence peddling in favor of a private company.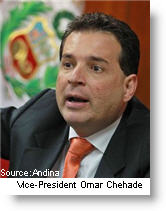 According to media reports, Chehade and his brother allegedly held a meeting with Guillermo Arteta, a former police general who was sacked by the government earlier this month along with many other high ranking officers as part of the reorganization of the police force.
Chehade's brother reportedly asked Arteta over lunch in a Lima restaurant to help evict workers at the Andahuasi sugar estate who are blocking entry to the farm of the Wong Group, majority shareholders of Andahuasi.
Arteta is said to have insisted on a proper court order for the eviction.  One of the other officers at the meeting was allegedly general Raul Salazar, who is now director general of the police force.
Chehade has denied any wrongdoing and reportedly left the restaurant before the issue of Andahuasi was raised.
Meanwhile, on Monday, local media reported that Chehade had met with outgoing government officials before he took office, to support a Brazilian firm in a tender to develop new sections of Lima's Electric Train system.
"We live in a state of law and we have to wait for the independent investigations," said Toledo.
The ex-president said that if investigations do indeed find wrongdoing, the incident will affect Peru Posible's support for Gana Peru.
"Meanwhile, I don't think we should get ahead of ourselves," he said.