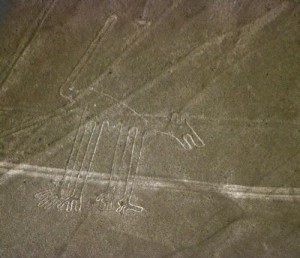 Seven people have been killed after a small plane carrying tourists crashed Thursday morning near the famous Nazca lines, located about 250 miles south of Lima in Peru's arid coastal Ica department.
Police in Nazca said three Chilean tourists, three Peruvian tourists and the pilot were killed. One of the passengers was reportedly a child. The airplane was registered to the Nazca Airlines company.
The director of the National Institute of Culture in Ica, Américo Baiocchi, told state news agency Andina that the plane crash did not damage the UNESCO World Heritage site.
Tourist planes flying over the Nazca lines have crashed before. In April 2008, five French tourists were killed when their plane crashed.
Peru's aeronautics industry blog Aeronoticias reported the Cessna U206F that crashed Thursday was the same plane that made an emergency landing on the Pan-American Highway on Nov. 17, 2008, and called for an investigation of Nazca Airlines  and Aeroica.  Both airline companies "have the same general manager," Aeronoticias reported. "It should be made known since when did they have their active certification or authorizations to operate over the Nazca Lines."
The airline's general manager, Franklin Horler, was quoted by Radioprogramas radio saying Thursday that the Cessna was in "perfect technical condition" and had taken tourists on two earlier flights over the lines earlier in the morning without incident.
He also denied that Nazca Airlines was formed from Aeroica, the company that flew the Cessna when it made the emergency landing, as well as reportedly running the other flight that crashed, killing the five French tourists.
The Nazca lines are one of Peru's most popular attractions. Tourist planes routinely fly over the ancient geoglyphs, which are miles long and depict living creatures like monkeys, llamas, hummingbirds and spiders. UNESCO says the lines were created between 500 B.C. and A.D. 500, and are among archaeologies greatest enigmas.