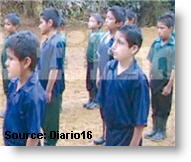 Recent reports and photographs of Shining Path rebels in Peru's southeast jungle have shown that the rebel group holds dozens of young children, kidnapped or born to kidnapped women, to train them as rebel soldiers.
UNICEF's office in Peru said Tuesday that the use of children by remnant groups of the Shining Path rebels is a violation of the Convention of the Rights of the Child.
UNICEF said it "rejects the direct and indirect participation, forced or voluntary of boys, girls and adolescents in any situation of armed violence."
"The utilization of children and adolescents on the part of the Shining Path constitutes a violation of the [Convention of the Rights of the Child] and puts them in an extremely vulnerable situation that affects their emotional, social, cognitive and physical development," UNICEF added. "It is necessary to understand that in these circumstances they are victims. It is imperative that these children can enjoy their rights again."
Images last week by television station Canal N and in several newspapers showed children who were armed by the Shining Path in the Apurimac and Ene river valleys, or VRAE, Peru's biggest coca-growing region. 
Diego Garcia-Sayan, president of the Inter-American Court of Human Rights, qualified the situation as "very grave," and National Coordinator for Human Rights (CNDDHH) also condemned the "training, use and slavery of children to carry out seditious acts that are devoid of any humanistic or democratic value."
 Rocio Silva-Santisteban, executive secretary of the CNDDHH, noted that President Ollanta Humala's announcement to recover the children in the hands of the Shining Path is fully compatible with some of the legal instruments set out in the UN convention.
"It is important that there be a specific defense policy to recover the children," she said.
Silva-Santisteban regretted that previous governments had not taken any action on the use of children by Shining Path rebels, and recalled the broadcasting two years ago of images of a young girl with a rifle and singing a rebel propaganda song.
The children in most cases are sons and daughters of the rebels themselves, borne by young girls who were kidnapped by the rebels specifically to bear children.   
"But it must remain clear that they are not terrorist children, they are being held hostage by terrorists," Silva-Santisteban said.
The Truth and Reconciliation Commission denounced the practice early in its findings in 2001. The rebel group today in the VRAE, involved in providing security for cocaine traffickers and with none of the original Maoist ideology of the Shining Path, continues the practice of kidnapping young children and particularly young girls.