As Peru's second round presidential vote approaches and opinion polls continue to show a tight race between leftist Ollanta Humala and right-wing Keiko Fujimori, two of Peru's most internationally acclaimed intellectuals are squaring off.
The war of words between economist Hernando de Soto and Nobel Prize winning author Mario Vargas Llosa, who are supporting Fujimori and Humala, respectively, began this week with a challenge by the former to a debate.
"[Vargas Llosa] has come out attacking Keiko Fujimori, above all against the people that are advising her in this campaign," said De Soto, who confirmed in early May that he would support Fujimori. "I think I should debate with Mario Vargas Llosa about the future of the country. If he doesn't do it, he will lose credibility and also harm the candidate that he is defending, which is Humala."
The proposal grabbed the attention of President Alan Garcia, who said it would be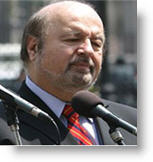 an "intellectual competition of the highest kind." "I would love to see that because the two are intelligent men. One is a Nobel winner and the other could win a Nobel in economics, perhaps," Garcia said.
However, the idea was quickly shot down by Vargas Llosa, who said he wouldn't debate with any "Fujimontesinista" supporter, referring to Keiko's father, disgraced ex-President Alberto Fujimori, and his shadowy spy chief Vladimiro Montesinos who together ruled Peru with authoritarian tactics during the 1990s. Both men are currently serving prison sentences for human rights abuses and corruption.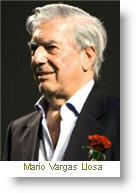 Vargas Llosa had faced Fujimori in the 1990 presidential election. In 1992, Vargas Llosa was strongly critical of  Fujimori's decision to dispatch the military to close Congress and the judiciary to give himself free reign. His continuing criticism from the pages of El Pais in Madrid led one of the leading military officers at the time to say that Vargas Llosa's Peruvian citizenship was a mere geographical accident and that he should be stripped of his nationality. The threat was never fulfilled but it led Vargas Llosa to seek Spanish citizenship, which he was granted in 1993. Under laws of both Peru and Spain, he can hold both nationalities.
When questioned about the debate in an interview with daily La Republica, Vargas Llosa said: "These are maneuvers by the Fujimontesinismo. They are nervous, and so they are using all of their resources to see if they can distract the public opinion from what is really important."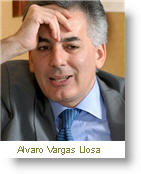 "I'm not going to talk or debate with any fujimontesinista," he added. "Or with any person that has so few democratic credentials as [De Soto]."
Vargas Llosa's son, Alvaro, called the invitation to debate "nonsense," but said he would be willing to take the place of his father, who is currently traveling in Europe to promote his most recent novel, El Sueño del Celta.
"Basically, he wants to divert attention," said the younger Vargas Llosa, a journalist and author who has also been supporting Humala, adding: "It is an operation to distract, a smoke screen to cover up his cowardice to debate with me. I again invite him to debate with me," Peru. 21 reported Alvaro Vargas Llosa as saying.

Alvaro Vargas Llosa has challenged De Soto to debate over the former's claims that the economist has plagiarized his work on Lima's informal economy from an American anthropologist.
"The Catholic University invited [De Soto] and me to have a public discussion on my assertion that he is an intellectual fraud and he ran like a rabbit from this challenge," he said.
De Soto has gained international recognition and accolades for his work on poverty and its relation to property rights. He is the founding president of the Lima-based Institute for Liberty and Democracy (ILD), a think tank that promotes property rights in developing countries.
He worked as an economic advisor during the beginning of Alberto Fujimori's administration but resigned before the ex-president dissolved congress in the 1992 "self-coup."
In response to Vargas Llosa's rejection of the debate, De Soto said it was likely that the author had not even read Humala's original government plan. Humala has made changes to his plan, but De Soto said it still has "a Chavista influence," referring to Venezuelan President Hugo Chavez.
Humala has been a close ally of Chavez, although he has tried to distance himself from the Venezuelan president in this campaign and create an image of a more moderate left based on Brazil's former head of state, Luis Inacio "Lula" da Silva.
Critics of Humala are concerned that if he wins he could turn Peru down a similar path as Venezuela by bringing an end to a decade of China-like economic growth thanks to sound fiscal policies and political stability, as well as look to install himself in power for consecutive terms. Peruvian presidents are barred from running for consecutive terms, according to a constitutional amendment made after Alberto Fujimori abused a 1993 pro re-election amendment and sought a third term.
"[Vargas Llosa] has rejected [the debate] with an insult and his son with another," said De Soto. "On one side we have a candidate that he promotes, a person that he endorses, but he is not available to defend his endorsement."
De Soto rejected the proposal to debate the younger Vargas Llosa. "Mario is who endorses Humala, so the idea is that he doesn't run. I don't want to talk with a substitute or a screen," De Soto said. "If a person hides… behind a son, it is clear that he doesn't have much to say."