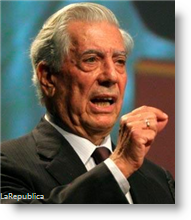 Mario Vargas Llosa, Peru's Noble prize-winning author, said Wednesday that he will work on preventing Keiko Fujimori from being elected President in 2016.
Vargas Llosa supported President Ollanta Humala when he ran in a second round vote against Fujimori in the 2011 election, narrowly defeating the former congresswoman and daughter of jailed ex-President Alberto Fujimori.
Vargas Llosa said in a television interview with Univision that he does not want Keiko Fujimori to be elected, because she would immediately free her father from prison and allow him to run her presidency from behind the scenes. Alberto Fujimori was convicted of human rights crimes, including authorizing killings by a paramilitary squad, and corruption.
"I don't want [as president] the daughter, the first thing that she'll do if she gets to power is release Fujimori [from prison], who directs her campaign and would be in a way elected if she won the elections," Vargas Llosa said.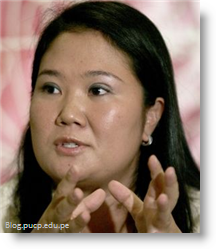 "Keiko is the daughter of a killer and thief who is in prison," Vargas Llosa added.
"I'm going to be clear. I'm going to participate [in the Presidential campaign]. I think it is an obligation that we have. If you believe in democracy, democracy is participation. If you don't participate, you don't have a right to protest when the country goes to hell," he said.
Keiko Fujimori has shown every indication of running for office in 2016, and at the moment heads the polls among the possible top contenders.  She has been actively supporting her party's candidates for the municipal elections, to be held October 5.
Although in the 2011 elections, Fujimori tried to distance herself from her father's history of corruption, some of her closest advisors were part of the old guard.
Members of Keiko Fujimori's party reacted to Vargas Llosa's comments, saying that they "reveal his hate and political vengeance."
"What a pity that he uses his power as Nobel winner to attack the eventual candidacy of Keiko Fujimori," Congressman Juan Jose Dias said.
Other supporters of Fujimori said that Vargas Llosa's comments were sour grapes, stemming from his loss to Alberto Fujimori in the 1990 presidential election.
"He's never gotten over it and he never will get over it, that Alberto Fujimori, a candidate without a party, defeated him," said lawmaker Hector Becerril.