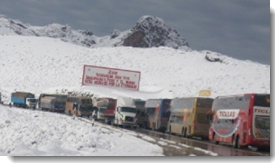 Temperatures in the southern Andes of Peru have dropped sharply in the past week, with -17.5º C recorded in the higher mountain areas of Tacna, in the province of Tarata, accord to the weather bureau, Senamhi.
There is also an unusually cold front in the Amazon Basin, with temperatures dropping to around 10º C in Madre de Dios, altough they were expected to rise to around 17º by early next week.
In Lima, which is feeling the coldest winter in some 15 years, temperatures are between 14.5º  and 17º C, with relative humidity between 80 and 90%.
Last week, snowfalls in the areas of Ticlio and La Oroya on the Central Highway —linking the commercial central highlands to Lima— caused highway blocks and traffic jams that in some cases lasted more than 24 hours.  Senamhi expects similar snowfalls to continue throughout the Independence Day holiday weekend.