A recent opinion poll that gives presidential hopeful Ollanta Humala a 6-point lead over opponent Keiko Fujimori shows the former as a clear favorite to win the second round vote and Peru's highest public office, according to analyst Erasto Almeida of the New York-based Eurasia Group.
The poll gives Humala 42 percent support, compared to 36 percent for Fujimori.  Ten percent of the voters are undecided and 12 percent reject both candidates. The national poll by firm Ipsos Apoyo for daily El Comercio was taken from April 16-21 and has a margin of error of 2.3 percent.
Humala, a 48-year-old leftwing nationalist who narrowly lost the 2006 campaign to incumbent Alan Garcia, won the first round vote on April 10 with about 31 percent support.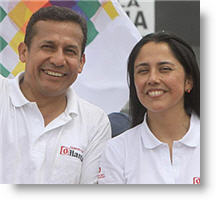 Fujimori, a rightist congresswoman who is the daughter of imprisoned ex-President Alberto Fujimori, finished in second with approximately 23 percent of the vote.
While the poll shows that Humala's lead has dropped from an 8-point advantage in the first round vote, opinion polls before that result had shown Fujimori with a significant lead over Humala in a second round scenario.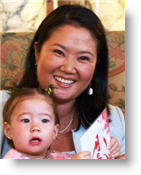 "In January 2011, Fujimori had a 19-point lead over Humala (44 percent versus 23 percent), but since then her lead has narrowed steadily," Almeida said in an emailed note. "In the last poll conducted before the… first round, for example, she was tied with Humala at 42%."
"The latest poll also shows that voters who supported other candidates in the first round are not overwhelmingly supporting Fujimori as some expected," he added.
Forty-one percent of those who supported former Prime Minister Pedro Pablo Kuczynski, who finished third in the April 10 vote with about 18.5 percent support, have said they will support Fujimori, and 20 percent will support Humala.
Thirty-seven percent of supporters of ex-President Alejandro Toledo, who finished with 15.6 percent in the first round, said they will support Humala and 31 percent for Fujimori.
Meanwhile, 34 percent of those who voted for Lima's ex-mayor Luis Castañeda, which amounted to 9.8 percent of the valid votes, are planning to support Fujimori and 24 percent will back Humala.
"The results reinforce our appraisal that Humala will defeat Fujimori in the… second round and become Peru's next president," Almeida said. "Fujimori will have a hard time reversing a trend in which voters have slowly but surely shifted their support toward Humala over the past three months as they viewed him as the candidate best positioned to enact the kind of change they are demanding."
While Fujimori will try to expand her support by portraying Humala as a radical leftist who will lead Peru down the path of Venezuela under President Hugo Chavez, she will face an uphill battle, Almeida said, adding that Humala has little risk of losing his lead for three main reasons.
The first is that Humala best represents a desire for change – a key issue in this campaign – among the electorate. "Fujimori will have a harder time making the case that she represents change not only because her father was president for ten years… but many voters still have a strong rejection of [Alberto] Fujimori given his association with corruption and authoritarian practices," Almeida said.
Humala's more moderate image in this campaign will also benefit his candidacy. "Humala's more moderate discourse and overtures to negotiate with other political forces after the first round increase his appeal to voters who want moderate changes (they are a majority)… and reduce the risk he will be isolated as he was in 2006."
Finally, Humala is leading a better campaign than Fujimori. "With Humala running a better campaign this time around than in 2006, it is hard to argue Keiko Fujimori has a good chance of turning the tables," according to Almeida.
Despite the gloomy outlook for Fujimori painted by the analyst, the congresswoman has said she is optimistic after the recent poll. "We've started off well the second stage of the campaign," daily El Comercio reported Fujimori as saying. "There is still work to do and to let the undecided know about our proposals."
Since the first-round vote, Fujimori has begun to appear frequently during the campaign with her husband and her two young daughters, and this week told the press that she recognized there were "errors and excesses" during her father's administration and apologized for them.  On Monday, she also said she recognized there might have been solutions other than closing Congress in 1992 (to implement her father's reforms).  However, most analysts remain skeptical of any real change in attitude since she continues to believe her father was the "best president" Peru has ever had.
Fujimori's best chance of pulling off a victory will likely require her to appeal to poorer sectors by making promises of more investment in social development. In addition, she will likely launch a "fear campaign" against Humala and try to distance herself from her father's government.
"But the odds are against her, and reversing Humala's lead would probably require very effective campaign capabilities, something she doesn't seem to have now, and significant slippages in the Humala camp," he said.