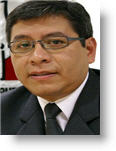 The implementation of the Prior Consultation Law will be clear and guarantee the participation of all sectors, according to Peru's new Deputy Intercultural Minister, Ivan Lanegra.
Lanegra said that the specific norms will be modified in each sector and in each level of the national, regional and local governments to facilitate the implementation of the law, state news agency Andina reported.
Lanegra, who succeeds Vicente Otta as deputy minister, is a lawyer who served in the Public Ombudsman's office of Environment, Public Services and Indigenous Peoples and most recently professor of Political Science and Government at the Catholic University.  Minister of Culture Susana Baca said that Otta had left the position "to solve personal problems."
The Prior Consultation Law was enacted by President Ollanta Humala during a ceremony in the jungle town of Bagua, a gesture in recognition of the protests in 2009 that led to the death of 24 policemen and 10 indigenous people in a confrontation that could have been avoided if a prior consultation policy had been in place.
The law is intended to help the state resolve social conflicts that have increased over the past several years over concerns by rural communities about the development of major energy and mining projects in their areas.
The government has said it will be an important tool for improving dialogue between private investors and indigenous communities.
Government officials are currently working on the regulations to determine how it will be implemented.
"We want this prior consultation process to be orderly, clear and quick, because the law will come into force in December," Lanegra said.
He said that the government aims to provide confidence and transparency to all actors involved. "That is possible to do. It isn't so difficult, that's why we are working intensly," Lanegra said.