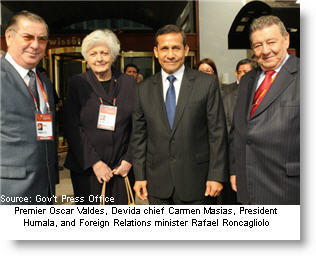 President Ollanta Humala launched an international drug conference Monday, calling for participating countries to strengthen ties to combat drug trafficking.
The two-day conference includes representatives from 67 countries and 10 international organizations that are involved in supporting anti-drug policies. Participants include foreign relations and interior ministers, drug czars, and heads of specialized agencies, including from Brazil, Colombia, Mexico, Russia, India and the United States, while the international organizations include the Andean Community of Nations, the Organization of American States and the United Nations Office on Drugs and Crime.
During the inauguration, Humala said, "Today, we have to look for new approaches to construct and design effective policies in the fight against drugs," state news agency Andina reported.
He also highlighted the importance of alternative development to replace coca crops, the prevention of consumption in families and among school-aged children, and the exchange of information between governments.
"I am sure that by the end (of this international conference) we will come to agreements and shared policies and we can, in this way, reach a milestone in the advance of the fight against drugs," Humala said.
According to the U.S. government, Peru is now considered the world's top cocaine producer.