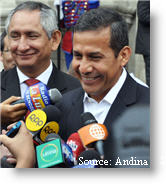 President Ollanta Humala said Wednesday that the government has no desire to use confrontation to end social conflicts, an issue that quickly became the administration's main policy challenge after it took office last year.
"We are used to resolving things in the streets," Humala said, in reference to recent violent protests against mining projects. "We have to learn to resolve problems within a democracy and convert them into proposals," he said in a video posted by daily El Comercio.
Humala's government has faced protests against projects owned by US-based Newmont and Anglo-Swiss firm Xstrata. The government's inability to quell the protests led to the recent removal of Humala's cabinet chief, Oscar Valdes, who was replaced this week by former Justice Minister Juan Jimenez in a major cabinet shuffle.
Humala and Jimenez have both promised more dialogue with protesters.
Humala added that one of the problems facing his year-old administration in dealing with the conflicts is weak state institutions. "This is a structural problem for the state," he added. 
During the Toledo administration 2001-2006), violent protests against the privatization of Arequipa's light and power company EGASA led to the death of one protestor and the resignation of his Interior minister, Fernando Rospigliosi; while in President Garcia's administration, 23 police and at least 10 indigenous protestors were killed in the north jungle at Bagua as a result of the government's major failure to assess and provide solutions to the discontent of Amazonian communities demanding their right to consultation prior to mining and oil development in their territories.