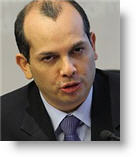 Peru's incoming minister of economy and finance, Luis Miguel Castilla, says that a challenge for the new administration will be to maintain economic growth above 6 percent in order to reduce poverty, daily El Comercio reported.
Castilla, who recently resigned as deputy finance minister in President Alan Garcia's government, was appointed this week to lead the ministry by President-elect Ollanta Humala.
Humala won Peru's presidential election in June on promises to maintain economic stability while increasing social inclusion for the more than 30 percent of the population that lives in poverty.
Humala's appointment of Castilla, who is respected by investors, has been an important signal to the market that he plans to maintain fiscal prudence.
Castilla said: "The challenge is to maintain growth above 6 percent to reduce poverty and have a more active role in social programs."
"The idea that president Humala has is to deepen areas that have been absent and create a more active policy of social inclusion," the US-educated economist said. "We are working on social programs so that they are coherent with macroeconomic stability."
Humala's inauguration is scheduled for July 28, Peru's Independence Day.