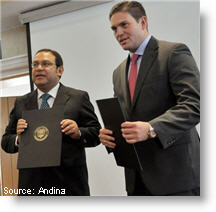 Peru and Colombia agreed Wednesday to take joint actions to combat organized crime on their porous border region, state news agency Andina reported.
The agreement was announced by Peruvian Defense Minister Alberto Otarola and his Colombian counterpart, Juan Carlos Pinzon, in Bogota.
Otarola said the Andean countries agreed to work together along their Amazonian border to combat drug trafficking, illegal mining and logging, human trafficking and the trafficking of fuel and arms.
In addition, both countries agreed to send military to the Putumayo river areas aimed at strengthening ties with the local populations.
Otarola also said the governments agreed to strengthen an Inter-American Defense System and create mechanisms with other nations to crack down on international criminal organizations.
He said the Brazilian government has been interested in meeting with Peru and Colombia to boost security on the border.