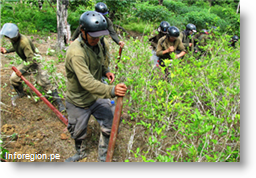 Peru's government has surpassed its goal for the eradication of coca crops this year, according to the head of the country's anti-drug agency, Carmen Masias.
Masias told Canal N television that 22,300 hectares of coca have been eradicated in 2013, higher than the 14,000 hectares eradicated in 2012, and more than double the eradication goals of previous administrations.
The anti-drug agency, Devida, set its goal in January when it said it planned to increase the eradication of coca bushes to 22,000 hectares this year.
Coca leaves are the basis of cocaine. Although coca leaves are still used for traditional medicine and rituals, the larger share of crops are illegal and supply the drug trade. The United Nations reported this year that Peru officially overtook Colombia as the world's biggest cocaine producer.
Peru's government is doubling down on eradication as a key tool to combat the country's thriving cocaine trade. The policy could face a backlash, however, if coca farmers are not assisted to seek alternative means of income. The Global Post cited in an October article upset coca farmers saying they could fight back against the government's eradication program.
The government's anti-drug policies also include the implementation of alternative development and crop substitution programs, increasing the military's presence in remote coca growing regions, ensuring better controls of precursor chemicals to make cocaine, and tackling money laundering.
According to the state prosecutor Sonia Medina, drug trafficking moves some $2 billion a year in Peru.