Peru's National Library, BNP, has begun a campaign to recover more than 600 titles that have gone missing from its rare book collection. The titles include gold-embossed tomes, parchments and microfilms of books printed between the 16th and 19th centuries, from different collections donated to the library over time. 
The call for information was made by the library's new director, Ramon Mujica, after announcing that the antique library section will be closed for 90 days to carry out a exhaustive inventory on its valuable collection of 150,000 old books.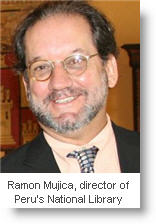 Mujica, an anthropologist, author and long-standing member of the National Academy of History, said that he had already received numerous calls from colleagues and collectors who have seen or bought books in various parts of Lima that were stamped with the National Library seal.    
 According to Mujica, who hired an additional librarian and a research specialist shortly after he was appointed five months ago, there is no one bibliographic registry. "There are disperse inventories, but they are few and out of date," he said.   
"I myself, as a researcher, have looked for very valuable books that I consulted three years ago, and they are no longer here," Mujica said.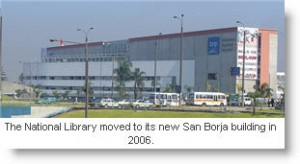 Working with just these faulty inventories led to the discovery that 663 books have disappeared over the last decade.  These include originals from the collection of Jose Maria Arguedas, whose birth centennial is being celebrated this year, manuscripts of thrice President of Peru, Field Marshal Andres Avelino Cáceres, as well as a book by the Dutch Renaissance humanist Erasmus of Rotterdam, published in Paris in 1524.
"This is a crime against culture," said Sinesio Lopez, a leading historian and a former head of the BNP who led the move from the old building downtown in 2006. "In cases like this, there has to have been internal collaboration," he said, explaining that access is restricted to the archival collection. 
In 2009, four books were recovered through a donation from two antique book collectors. One of the collectors had been offered the books and when he found they carried the BNP stamp, he sought another collector to help him buy the books to give back to the library. The books were printed in Mexico and Spain between 1576 and the early 19th century.
The books carry a BNP seal on the title page and also on page 43 of every book, in commemoration of the 1943 fire that destroyed a large part of the library, which was founded in 1821 by liberator José de San Martin.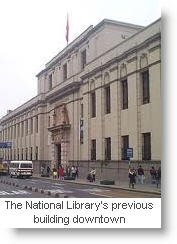 Recently, the BNP also filed a complaint on the alleged attempted theft of 200 Field Marshall Caceres manuscripts that were found on the roof of the old Library building downtown, ready to be discarded as garbage, a day before Ramon Mujica was installed as the new director.
Like having a Jaguar with no engine
Talking on RPP Noticias, Mujica said that the BNP, despite its modern structure, does not have sufficient security cameras and that supervision is "very precarious."  Also, the vault space is insufficient for storing the books that are of historical value.
"We have an extraordinary new locale, but it is like having a Jaguar with no engine. We require new software systems and that costs a lot of money," he said.  He also explained that there is no intention of accusing the administrations of his predecessors, Sinesio Lopez and, more recently, Hugo Neira, but to make public the grave situation of the institution.
The BNP research library will be closed for 90 days, but all other activities continue, including theater and talks, as well as an exhibition in March of 19th century caricatures, and the July exhibition to celebrate the centennial of the discovery of Machu Picchu.