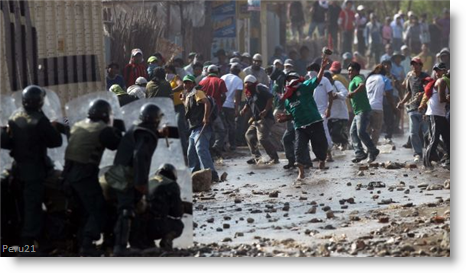 More than 3,000 police are on alert in southern Peru, to face a macro-regional strike called for May 27 and 28 in support of the protests against the Tia Maria copper mine project.
Military troops and police are on alert in the province of Islay, the center of the protests. But the government has also sent army troops to the other regions backing the strike, from today through to June 28.
The strike has been called by unions and community associations from the southern regions of Arequipa, Puno, Moquegua, and Tacna, and joined by the regions of Apurimac, Ayacucho, Junin and Cajamarca.   Commercial guilds in Tacna said they would close shop on the first day of the strike.
The major concern is groups of protestors who are being hired to commit vandalism and use violence against the police, throwing rocks and using Andean slingshots known as huaracas.
According to a report in Peru.21, some 300 vandals, called the 'espartambos' (related to the Tambo Valley), who have split up to lead protests in several areas, are being paid 100 soles a day by leading rice millers in Islay.
Police also have been informed that the millers financing the violence have threatened to burn the rice harvesting machinery of Tambo Valley farmers who do not support the strike.
Despite efforts by the People's Ombudsman, talks between the valley farmers and the government have collapsed.
The Environment Minister, Manuel Pulgar-Vidal, says that the dialogue has not stopped, and can continue with local authorities who have not been involved in violence or are not related to extorsion, such as the Tambo Valley defense front leader, Pepe Julio Gutierrez, who allegedly expected a payment of $1.5 million from Southern Copper to stop the protests.
However, Pulgar-Vidal dismissed the suggestion that Tia Maria's most recent Environmental Impact Study, EIA, be submitted to international assessment, although environmentalists and political analysts believe this could quiet concerns among the Tambo farmers.
The new EIA, a 35-volume report presented in november 2013 and approved by the government towards the end of 2014, resolves the 138 issues raised in the previous study made in 2009, according to Pulgar-Vidal.  However, technicians questioned by El Buho online daily say that the report includes only a cursory description and no feasibility study for the desalinization plant, which is to be built to treat salt water and pipe it up to the mine in order to avoid using the Tambo river that irrigates the farmlands in the valley.
"The State needs to demonstrate that it has made the right decision, well founded, based on technical data. Becaue if we are going to review environmental impact studies every time, then we will never be able to say that we have worked and achieved to strengthen the State that we all aim for," Pulgar-Vidal said.