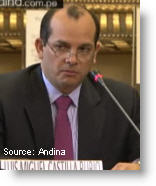 Political controversies surrounding Peru's government and Congress will not undermine efforts to award billion-dollar development concessions to private-sector investors, according to Economy and Finance Minister Luis Miguel Castilla.
"None of the political noise has affected the attractiveness of the concessions," Castilla said in press conference Thursday. "We have a lot of interest from international bidders," he added.
On Thursday, Castilla announced that Peru plans to award development concessions for $10 billion this year. He said the government has already given out concessions for six infrastructure projects worth about $2 billion.
Another 16 concessions, totaling the remaining $8 billion, will be awarded between August and December, according to Castilla. The concessions are awarded through government agency ProInversion.
Transport and Communications projects up for bids include the 2nd Metro line for Lima, the San Martin Port Terminal in Pisco, the Chinchero airport for Cusco, a national optic fiber network, and in 2014, an Amazon water transport system. Mining and Energy proejcts include the gas pipeline for southern Peru and improvements in the national energy supply system .
President Ollanta Humala's approval rating has slid under pressure of political controversies and, to a lesser extent, a slumping economy. His approval rating reached 33 percent in July, the lowest rating since he took office two years ago.
Political leaders have faced pressure for their appointment of controversial members to the top court and the Defensoria del Pueblo. The appointments were made by Congress last week, and involved all political parties, including President Humala's ruling Gana Peru party.  Some of the appointees have since decided to step down, and Congress is expected to defer a new selection until the next legislature, after July 28.