Police at Lima's Jorge Chavez airport Tuesday have detained Justo Rios, an Air Force NCO, for questioning in the alleged passing of information to another NCO, Victor Ariza, who has confessed to selling military secrets to Chile over several years.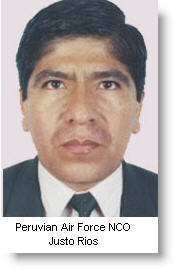 Rios, 49, was taken into custody as he returned from a vacation in the United States.  He is being questioned because investigators have allegedly found that a document on the training plan for the Air Force special operations forces was sent to Ariza from Rios' e-mail address. Another two suspects, Victor Buendia and Omar Flores, are being investigated. 
All three worked in strategic positions within the Air Force intelligence system –Rios worked as a technical inspector and intelligence specialist with high security clearance.