A new government commissioned study reportedly shows Machu Picchu can handle up to 5,940 visitors per day as long as Peru implements infrastructure improvements and spreads out the flow of tourists as prescribed in the recently approved five-year master plan.
The U.S.-based firm Cultural Site and Research Management of Baltimore, Maryland, delivered the report on Monday to the Management Unit of Machu Picchu (UGM), Ricardo Ruiz-Caro, chief of Cusco's regional Culture Directorate, told T-News.
The firm, led by Dr. Douglas Comer, has a well-established track record in cultural resource and environmental planning, including the sustainable visitor services plan for another UNESCO World Heritage Site, the Petra Archaeological Park in Jordan.
Since 2011, the average daily number of visitors to Machu Picchu has far exceeded the daily limit of 2,500 agreed to by Peru and UNESCO.  Starting in 2012, annual attendance has topped a million tourists. Last year, the Inca sanctuary was visited by 1,141,177 people, according to Peru's Ministry of Culture.
According to the study's findings, that total could double to 2.2 million visitors per year without degrading the ancient Inca complex.
Peru started to implement strict new procedures last year, under mounting pressure from UNESCO to fix myriad problems, from overcrowding and a lack of basic tourist infrastructure to inadequate solid waste management.
In April, the government approved a long awaited Master Plan for Machu Picchu that maps out a dramatic "reconceptualization" of the Inca Citadel, backed by a proposed $43.7 million makeover for the Inca citadel.
Ruiz-Caro reiterated that regulating the flow of tourists over the course of the day is key to Machu Picchu's long-term conservation.
"Entry must be implemented over a certain range of hours, associated with ticket sales," he told T-News. "The maximum sale of morning tickets should be 3,000 and a second range should be for people  who enter starting from noon onward."
Roger Valencia, president of Peru's National Chamber of Tourism (CANATUR), was quoted Wednesday saying the study also recommends expanding Machu Picchu's operating hours, closing at 6 p.m., instead of the current closing time of 5.
Valencia lauded the study in comments published by InfoTur Peru, the tourism chamber's news site and revealed more of its conclusions.
"The carrying capacity study is high quality in terms of preparation," Valenia said. "It has given us insight into the visitor profiles. It involves technological instruments for flow management in order to understand how our visitors behave, who they are and their motivations."
The study takes into account the major changes called for in the Master Plan.
The entry point into Machu Picchu will be moved from the current entrance just outside the ruins to a new visitor and orientation center in the jungle gorge below, where the Urubamba River snakes almost completely around the towering citadel in a horseshoe bend.
From there, visitors will fan out, transversing several new routes up to, around and through the citadel.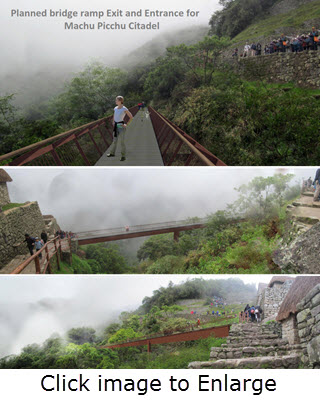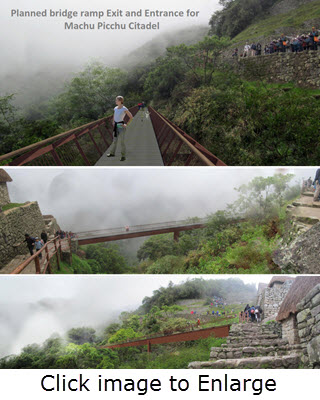 Once visitors reach the sanctuary, they will be able to walk one of three predetermined routes through the complex, with set time limits at specific points to keep the traffic flowing.
Visitors currently take just under two hours on the standard route, said Valencia. The new study recommend increasing that time to exactly two hours. Additional time would be alloted to climb the peaks of Machu Picchu Mountain and Huayna Picchu, as well as for trekkers entering via the Inca Trail, he added.
Two new entrance routes will also be added, encompassing parts of the Inca Trail — one starting at Km. 113 and the other at Km 117, he added.
Visitors will access the first by crossing a new ramp, and over a series of Inca terraces.
The second goes over several Inca terraces and an Inca Trail that leads directly to a large cavern. From there, visitors can reach Huayna Picchu and then to Machu Picchu.
"With all that we have three alternatives short Inca Trails," Valencia said, one a full-day excursion, and the oter two taking three to five hours.
In related news, Ruis-Caro told daily La Republica  on Wednesday that officials are considering whether to close the Hiram Bingham Highway, the 6-mile switchback road up to Machu Picchu, for urgent repairs.
Peru's National Service of Protected Natural Areas (Sernanp) revealed earlier this month that an analysis by consulting firm Proyectos & Construcciones Silver S.C.R.L determined the 67-year-old road could have only 17 months of "useful life" left unless aggressive maintenance work undertaken.
Ruiz Caro did not rule out the installation of a cable car up to the citadel — a controversial plan that was nearly carried out in the late 1990s before it was scrapped because of opposition.
The Master Plan talks about building alternative forms of access, he said, "but this study should be done starting in 2016."