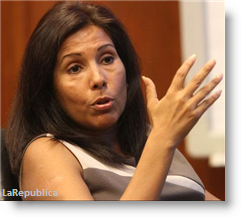 The head of Peru's tax agency, Tania Quispe, denied media reports last week that she was the target of spying by officers in the police intelligence unit, daily Peru.21 reported.
Earlier in the week, Peruvian media reported that members of the National Intelligence Office, or DINI, were assigned to follow Quispe.
That revelation followed news that the DINI had also been tracking the vice president, Marisol Espinoza, setting off a political firestorm that led President Ollanta Humala to strongly denounce the practice and promise to get to the bottom of it.
But Quispe, sitting beside Interior Minister Daniel Urresti at the RPP Radio studio, said she had ordered the officers to help in a personal issue.  Quispe said she had asked Urresti to follow her stepson after she became suspicious of people close to him who were asking strange questions about the tax agency's activities.
"I have a stepson who came to live in Peru recently and he has been mixing with people who worried me because of the type of information they would ask for, their questions," Quispe said.
Quispe said that since last year, Sunat has taken on increasingly risky work related to illegal mining and controlling precursor chemicals used in drug trafficking.
"[Urresti] asked me for permission to follow my family, and I gave it to him," Quispe said.
Urresti added that the operation was aimed at "looking after her security."