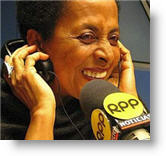 Prominent Peruvian singer Susana Baca has been appointed to be the next Minister of Culture by President-elect Ollanta Humala, the incoming government announced by Twitter.
Baca, 67, was born in Lima's Chorrillos district and is a winner of the Latin Grammy Award for Best Folk Album, for her Lamento Negro disc.
"I think I am the first black cabinet minister in Peru," Baca said during an interview on RPP radio, adding that she was proud to be the first in the Afro-Peruvian community to hold such a high office in the government.
"I have a difficult year ahead of me, with many concerts, but I have always been interested in working for Peru," she said.  "I will work to ensure that culture is not something that is only enjoyed by the people who can afford it, but that it be democratic, that it reach everyone and be inclusive."   
Baca, a composer and researcher as well as a performer, has been internationally recognized at the forefront of the revival of Afro-Peruvian music, as well as a director and supporter of nonprofit cultural organizations.
Baca will replace Juan Ossio, an anthropologist who was appointed by outgoing President Alan Garcia as Peru's first minister of culture, incorporating the former National Culture Institute (INC) as well as a number of museums and arts schools, including the National Fine Arts School.  Ossio telephoned Baca to congratulate her on the appointment.
The day after her swearing- in on July 28, she is scheduled to be in Ecuador for a disc-launching concert.