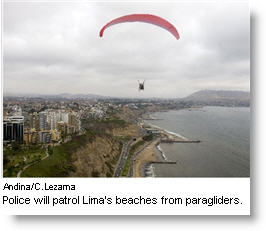 Police are to begin paragliding over Lima's beaches next week as part of this year's summer shore patrol program, according to the city's chief of police, Oswaldo Hernandez.
The paragliding squad will work in conjunction with the Lifesaver Unit, which trains from its operations center on the Costa Verde in Miraflores, and with the police units assigned to traffic and emergency control on the highway south of Lima.  To monitor the bay of Lima, or the Costa Verde, police will be jumping from the 500m cliffs in Miraflores, where paragliding has become a popular sport.  
Hernandez said the police force's 500 lifesavers, including 15 women, work throughout the summer at 90 beaches south of Lima, where the strong undertow claims lives every year, and at thirty public pools in the city and outlying districts.