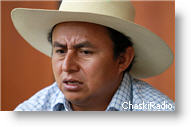 Gregorio Santos, the president of Cajamarca region and a prominent anti-mining activist, will run in Peru's presidential campaign in 2016, according to a member of his party cited by daily La Republica.
The secretary of Santos' left-wing Movimiento de Afirmacion Social party, Alin Monteza, said that Santos is expected to hold a rally on Saturday to launch his candidacy.
According to La Republica, signs have popped up over Cajamarca city in recent days saying "Gregorio Presidente." Santos had previously hinted at running for president.
Santos' chances of winning the election would be slim, but he may gain support from some on Peru's far-left who backed President Ollanta Humala in 2011 and have since been disappointed by how Humala has governed.
Humala ran on a platform that called for a greater state role in the economy and stronger restrictions against mining and energy companies. However, since taking office, he has maintained the economic policies of his predecessors, although trying to better spread the wealth of Peru's decade-long boom.
According to the report, Santos will seek to improve his image. The president of Cajamarca is seen not only as a stiff mining opponent, but as stubborn and unwilling to negotiate, and has little support outside of the region. Santos was a prominent protest-leader against the massive Minas Conga copper and gold project, owned by U.S.-based Newmont Mining and Peru's Buenaventura.
Santos and other members of his party, known as MAS, face a series of legal issues related to the violent protests against Minas Conga last year. Several people were killed, and numerous injured, during clashes between anti-Conga protesters and police in Cajamarca region, leading the national government to declare a state-of-emergency .
Santos would likely face stiff opposition if he does indeed run for president. While President Humala is constitutionally barred from running for re-election, Santos could face opponents such as former Presidents Alan Garcia and Alejandro Toledo, 2011 presidential runner-up Keiko Fujimori (although her brother Kenji says he is his father's chosen candidate), and maybe Peru's popular First Lady, Nadine Heredia.