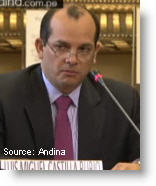 Economy and Finance Minister Luis Miguel Castilla lowered his outlook for economic growth this year, but added that there should be a rebound in 2014.
Castilla said that Peru's gross domestic product is expected to expand a little more than 5 percent in 2013, compared to a previous forecast of 5.7 percent, financial daily Gestion reported.
In 2012, Peru's economy expanded 6.3 percent.
Economic activity has cooled off after years of robust growth, due to a decline in metal prices and weaker domestic demand.
Economists have lowered their forecasts for growth this year several times as economic activity continues to surprise on the weaker end.
Central Bank President Julio Velarde said this week that the economy is expected to expand below the bank's official 5.6 percent forecast, but above a recent projection from the International Monetary Fund of 5 percent.
In October, the Central Bank reduced its reference interest rate by 25 basis points to 4.0 percent, in part due the slower economy.
Banco de Credito, Peru's largest bank, also reduced its outlook for growth, saying the economy would likely expand 5.2 percent in 2013. The bank had previously forecast growth of 5.5 percent.
Minister Castilla said in a presentation to Congress on Wednesday that growth should recover in 2014 thanks to a recovery in the global economy, the startup of new mining projects, improved business and consumer confidence and the development of infrastructure and transportation projects.
Castilla said that the ministry is maintaining its forecast for growth of 6 percent this year.