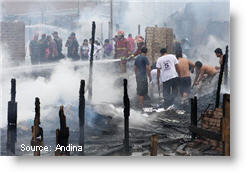 A fire on Christmas day destroyed more than 50 homes and left some 200 families homeless in the port city of Callao.
The fire began at about 10:30 a.m. on Sunday in the low-income neighborhood of Atalaya, and was caused by firecrackers, which are popular during the holidays.
No fatalities were reported, local media said.
Felix Moreno, the regional president of Callao, said the local government will set up a fund of 5,000 to 6,000 soles for each family for the repair and reconstruction of their homes.
"We calculate that in no later than a week these families will begin to rebuild their houses with the support of engineers," said Moreno. "It will be a safer and more organized reconstruction with the intention of preventing future fires."
Newspaper La Republica said that employees from the regional office of Social Development provided the affected families with food and free medical assistance.