President Ollanta Humala on Sunday tried to distance himself from his brother, Antauro, who has caused a number of headaches for the government and affected the President's approval rating.
"I want to show my distance with Antauro, in everything that he says," Ollanta Humala said during a television interview. "I don't share anything that he says, does or thinks."
"I am completely separated from him," the president added.
Antauro Humala is serving a 19-year sentence for the 2005 assault on a police station in the Andean town of Andahuaylas that resulted in the death of four police officers.  He was sentenced in September 2011.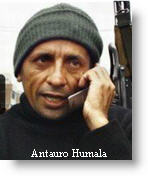 Antauro led a group of some 130 ultra-nationalist Etnocaceristas* in a New Year's Day siege of a police station in Andahuaylas, located in Apurimac region in southern Peru. The group took hostages, demanding that then-President Alejandro Toledo resign. The group said that Toledo had sold out Peru to foreign corporate interests – Chilean investors in particular.
The policemen were killed in a roadside ambush during the ensuing three-day standoff. Police snipers killed two of Humala's men the following day.
At the time, Ollanta Humala was military attaché to the Peruvian Embassy in Seoul.
Since taking office last July, President Humala has faced a number of controversies related to his family that have affected his popularity —besides a younger brother visiting Moscow last year, unauthorized, to offer to act as a private investment liaison, his father openly supports his brother Antauro.  In a recent poll by Datum, the president had an approval rating of 55 percent in March, compared to 58 percent in February.
That decrease was largely due to allegations and a general perception in the public that Antauro Humala had been receiving perks from the government. This has included a change in prisons, as well as the publication in local media of Antauro, in prison, embracing an unidentified woman and holding an iPhone.
Meanwhile, on Monday the controversy deepened as local media published a video of Antauro smoking marijuana in his cell at the earlier prison, Piedras Gordas in Ancon, north of Lima.  He is now in the military prison at the military academy in Chorrillos.
 Author and political analyst Alvaro Vargas Llosa, in Arequipa this week for a family reunion to celebrate his Nobel laureate father Mario's birthday, sees Ollanta Humala as a victim of his family.
"Evidently he has had no relationship with Antauro for many years. Antauro has his own political project and spends his time annoying his brother," Vargas Llosa said. "There's also another brother who has a political rivalry [with Ollanta]. Ulises does not accept Ollanta's achievements.  That is harmful, it wears things down….."
_____________________________
*Etnocacerismo— An ethnic nationalist movement, evoking the ethnic Quechua people and taking as mentor Field Marshall Andres Avelino Caceres, who led a guerrilla resistance campaign against the Chilean invasion during the 19th century War of the Pacific and later became President.  According to Ollanta Humala, in his book De Locumba a candidato a la presidencia en Peru, the movement was originally an internal military group trying to bring about changes within the military, but it was then taken by his brother Antauro and developed with his father as a pro-ethnic anti-foreign movement.