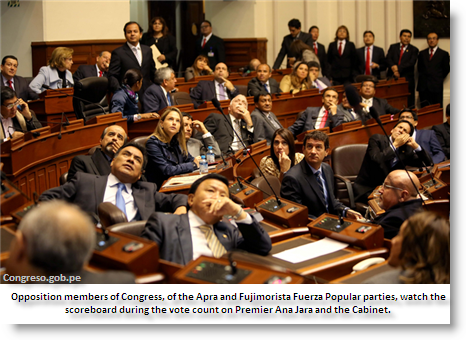 Peru's Congress narrowly voted in favor of President Ollanta Humala's new cabinet on Tuesday, as political opponents continue to call for the resignation of some key ministers.
In the third Congressional vote since last week, lawmakers approved the cabinet, led by Premier Ana Jara, with 55 votes in favor, 54 votes against and nine abstentions. The president of Congress and member of Humala's Gana Peru party, Ana Maria Solorzano, cast the deciding vote in favor of the cabinet.
Peru's Constitution requires that the government receive approval from Congress every time it changes the cabinet chief. Jara, who was appointed in July as premier, failed to gain a vote of confidence in two different sessions last week following a presentation to legislators on the government's policy proposals.
Opposition legislators had called for several concessions prior to giving their vote of confidence, including changes to policy overseeing pension contributions for independent workers, and the resignations of the Mines and Energy Minister and the Health Minister.
"A leader never hands over members of his team in order to save his own neck," Jara said.
First Lady Nadine Heredia, who is the head of the Gana Peru party, said the government would consider changing its position on the pension contributions. But Jara, and President Humala, said they would not budge on calls to remove Eleodoro Mayorga, the Mines minister.
Opposition lawmakers say that Mayorga has a conflict of interest, and has succumbed to private sector lobbyists. Prior to taking office as minister this year, he worked as a consultant for private sector oil companies.
President Humala had been confident of winning this round with Congress, and when the approval was won, he said it was time to turn the page and move on.
Legislators still may get their way with Mayorga, however. Several opposition parties said Tuesday that they planned to call Mayorga to Congress in the coming days to address their concerns. This would be the first step towards a censure by Congress.