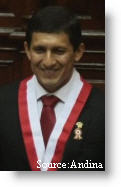 President Ollanta Humala's Gana Peru party has maintained control over the presidency of Congress for another year, as lawmakers voted in a legislator from the ruling party to hold the post in the 2012 – 2013 sessions.
Congressman Victor Isla Rojas was elected the new president of Congress on Thursday, replacing lawmaker Daniel Abugattas, also from Gana Peru.
Abugattas, a close ally of President Humala, was elected to head the Congress at the beginning of Humala's term last July.
Isla Rojas was elected with 85 votes in favor, beating out opposition lawmaker Luisa Maria Cuculiza who received 42 votes, state news agency Andina reported. Cuculiza, outspoken and popular, is a member of the Fujimori party, Fuerza 2011.
The vice-presidents of the Congress elected for this new year reflect a broad consensus reached during the vote: Marco Falconí of Accion Popular, Juan Eguren of Alianza por el Gran Cambio, and José Luna of Solidaridad Nacional.
After his election, Isla Rojas said he will work on improving the image of Congress. Confidence in Congress is very low among the general population and it is regularly ranked in surveys as one of the country's most dysfunctional institutions.
"We are aware that there are conflicts due to dissatisfaction," Isla Rojas said. "We will develop our vocation for dialogue and our spirit to know how to listen."