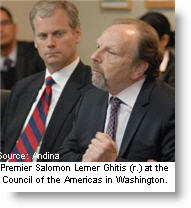 Salomon Lerner Ghitis, President Ollanta Humala's cabinet chief, said Wednesday that Peru will maintain clear rules and a stable legal framework for investors, state news agency Andina reported.
"In our country, you'll find clear rules and you won't have a statist [government], but rather a government with clean hands," Lerner Ghitis said during a meeting with U.S. investors at the Council of the Americas in Washington D.C.
Lerner Ghitis said that Peru is looking to attract investment to "strategic sectors," adding that the government is looking to change the energy matrix from petroleum to gas and hydro-energy.
In agriculture, the country is looking to incorporate some 180,000 hectares of new land for export-destined crops.
Lerner Ghitis, a millionaire businessman who has been a key advisor to Humala since at least 2006, also said that Peru will sign an agreement with Harvard University to identify six or nine productive chains in agriculture, metal-mechanic and textile industries in order to provide added value to products.
Lerner Ghitis has been in the U.S. this week, meeting with U.S. officials, including Secretary of State Hillary Clinton.
Lerner Ghitis and Clinton reportedly discussed cooperation in the fight against the illicit drug trade.