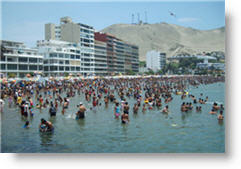 Congress enacted a law this week that protects Ancon, the bay north of Lima, against any commercial, port or other activities that would affect the environmental and social conditions of the area.
The law effectively scotches a $320 million project by the Romero Group's Santa Sofia Puertos to build a port for grains, oils and containers. The port was to take up a third of the four-kilometer-long bay and include a breakwater and a 1,300m dock.
In 2007, the Ministry of Transport initially denied a permit to Santa Sofía to build the port, based on the grounds of environmental risk and the fact that the port of Callao is 35km south and the ports of Chancay and Huacho are a similar distance further north. But in 2008 the Ministry granted the company a permit to build a grains and oils port, based on projections of a possible port congestion problem by 2015. In 2009, the permit was expanded to also include containers.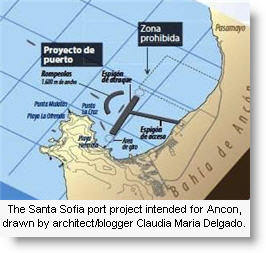 A campaign against the port project started up, led not only by Ancon summer-home owners and most of the villagers and artisanal fishermen but also by environmentalists.  The former argued for their lifestyle, the latter believed the project would cause serious environmental damage.
A natural harbor, the fishing village of Ancon has been a resort since the 1920s when Lima's elite began to build their summer homes around the more protected curve of the bay. High-rises have replaced the cool wattle-and-daube houses and dozens of yachts dot the calm waters of the bay.
But Ancon is also one of only two stretches of beach available to people living in North Lima and on the weekends it is crowded with busloads of vacationers –the alternative beach, Ventanilla, has rough waves and an exceptionally dangerous undertow. The next closest ocean front is at Chancay, 70km north of Lima over the long Pasamayo sand dunes.
Ancon also is the site of a small navy air force base, and the maximum security Piedras Gordas prison, built in 2004.  Additionally, the dunes inland from the bay are an important archaeological area, where archaeologists have excavated since the 1880s and found a traceable history of Ancon over 10,000 years.  In recent years, San Marcos University archaeologists have been carrying out more research, in the face of expanding highways and urban development.
"Ancon has been saved from industrial development," said Jorge Caillaux, president of the Peruvian Environmental Law Society (SPDA).  "Its future is a different development. We have to create a program to take advantage of its fishing, tourist and recreational possibilities."
The mayor of Ancon, Pedro Barreda, added that "the interests of the community have won over those of an individual."