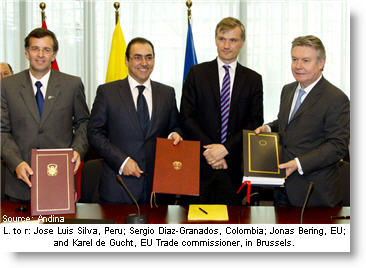 Peru and Colombia on Tuesday signed a free trade agreement with the European Union, which is expected to come into effect by the end of this year, state news agency Andina reported.
Peruvian Foreign Trade and Tourism Minister Jose Luis Silva, Colombia's Minister of Trade and Industry, Sergio Diaz-Granados, Danish ambassador Jonas Bering  serving as deputy permanent representative to the European Union's presidential council, and Karel De Gucht, the Trade Commissioner for the European bloc, signed the accord in Brussels.
De Gucht said the free trade pact will create a stable framework for business and investments with Peru and Colombia.
"In these times of crisis it is international trade that can help prevent that we return to recessions," De Gucht said. "This is the potential that we are opening today by preparing new economic associations with different countries in Latin America."
Peru and Colombia have been working on this agreement for several years. The EU only signs free trade agreements with economic blocs, such as the Andean Community, CAN.  However, neither Ecuador nor Bolivia were interested in the agreement and Peru and Colombia needed to negotiate many of their own differences before reaching a mutual agreement and then approach the EU.
The European Commission estimates that the trade deal with Peru and Colombia will allow exporters from that European Union to save some 270 million Euros ($345) per year in taxes.
Peru has made a number of inroads with free trade deals over the past several years, including signing pacts with the United States, Canada, Japan, and China. 
However, Peruvian Trade and Tourism minister Silva said the agreement with the European Union is the biggest that Peru has signed so far.
"In the FTA with the United States, we are talking about bilateral trade of about $6 billion. In the case of Europe, it is almost 40 percent higher. As well, we are talking about a market where there are 500 million people with a high purchasing power," Silva said.