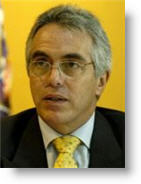 Peru's government has appointed the current president of the Inter-American Court of Human Rights to lead the commission in charge of developing the Memory Museum, state news agency Andina reported.
Diego Garcia-Sayan, who is also a former Peruvian Justice Minister and for many years a key figure in the Andean Commission of Jurists, has been appointed to lead the High Level Commission for organizing and developing the musuem, which has been renamed the  Memory, Tolerance and Social Inclusion Museum, Andina said.
The commission will also include Monsignor Luis Bambaren, bishop emeritus of Chimbote, as well as architects Leopoldo Schelje and Javier Sota, exhibition specialist Pedro Alayza, and Hilaria Supa, a human rights activist of Quechua origin who was elected to the Andean Parliament in this year's general elections. Schelje was president of the private industry confederation, Confiep, until recently, and Sota was for many years rector of the National Engineering University, UNI.
The commission members will be working pro bono and will continue in their current positions in their separate fields. 
The museum is to honor the 70,000 people who died and the hundreds more reported missing during the 20 years of political violence in Peru between the Maoist Shining Path insurgents and government security forces.
Garcia-Sayan said that his commission would ensure that the museum will be implemented to ensure rigorous objectivity in adhering to the facts. 
"Objectivity in the description of what happened is an absolutely fundamental ingredient of our task," Garcia-Sayan said. 
Details of the events were collected over three years by the Truth and Reconciliation Commission, CVR, whose members interviewed witnesses and victims in Lima and throughout the highlands, and produced an impeccable  nine-volume report.   The initial exhibition included many of the details collected, with contributions from news photographers, contemporary news reports, and audiovisual material.
The military has consistently refused to accept any wrongdoing in its counterinsurgency tactics, as shown in the report, despite the fact that the CVR concluded that the Shining Path initiated the violence and was responsible for 54% of the deaths.     
The museum is being built overlooking Lima's Costa Verde ocean front on a lot donated by the Miraflores municipal government. A bid was called for the architectural design in 2009 and the building is scheduled to be completed in February 2012.
The head of the commission was originally held by Peruvian Nobel prize winning author Mario Vargas Llosa and later by artist Fernando de Szyszlo, who retired earlier this year.