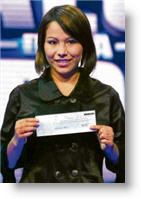 A popular and controversial Peruvian reality TV show is under pressure after a contestant was murdered a few months after appearing on the show.
Ruth Thalia Sayas, a 19-year-old contestant on "The Value of Truth," was killed last week allegedly by her boyfriend, Bryan Romero. Authorities have said Romero has confessed to the murder, in which he allegedly poisoned and strangled Sayas over the money she won on the show.
Thalia Sayas was the first contestant on The Value of Truth, known as El Valor de la Verdad in Spanish.  The show's host, journalist and author Beto Ortiz, asks contestants intimate and embarrassing questions, which the contestant has answered previously during a polygraph test. The contestants can win up to 50,000 soles ($19,300).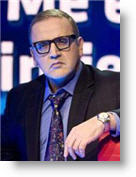 Thalia Sayas won 15,000 soles after answering a number of questions on the show, including admitting to accepting money for sex and going out with her boyfriend until "something better turns up."  The questions were answered in front of her family and Romero.
The case has been widely covered in Peru's local media, with some local TV personalities heavily critical of the show, which has led TV ratings in recent weeks. International media, such as CNN, Fox News, and Spain's El Pais, have also covered the case.
Meanwhile, the National Society of Radio and Television said that it has received three complaints of the TV show, daily El Comercio reported. One of the complaints is related to the case of Ruth Sayas, the society's president, Jorge Baca, said.
Ortiz, the show's host, has said the show will continue as planned, while he has also denied the show has any responsibility for the murder. He said the show's critics "have tried to convert the program into the origin of the cime, we reject this version."
They have used the "horrible murder to distort information," Ortiz said.
The journalist did, however, issue an apology to the family for not doing more to help with the search of Sayas when she went missing. "We are going to be together in the search for justice," he said. "I want to apologize to the family for our slow response when you came to ask us for help. No one could imagine that something like this would occur."