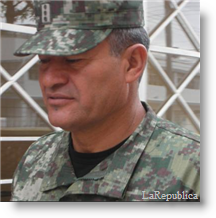 At a military ceremony held at the Army headquarters in San Borja early Friday,  Major General Leonel Cabrera was sworn in as the head of the Joint Command of the Armed Forces.  
Cabrera, most recently commander general of the armed forces southern division, succeeds Admiral Jose Cueto, who has been removed from the post weeks after allegations surfaced that he was involved in a political scandal related to a former ally of ex-spy chief Vladimiro Montesinos.
Cueto's removal from the armed forces comes some six weeks after revelations that police officers were providing protection to Oscar Lopez Meneses, a member of Montesinos' inner circle.
The issue led to the resignation of the Interior Minister at the time, Wilfredo Pedraza, as well as President Ollanta Humala's security adviser, Adrian Villafuerte. Several high-ranking police officers were also fired over the scandal.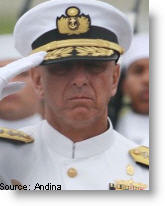 The former chief of Peru's National Police, Raul Salazar, said that the order to protect Lopez Meneses' house came via a phone call from Admiral Cueto. Cueto denied the accusation, in turn accusing Salazar of making a bold-faced lie.  Cueto refused to step down from his post as chief of the joint command of the armed forces, arguing that to resign would be tantamount to admitting guilt.
As he handed over his post on Friday, Cueto thanked the government for the "highest military honor" he had been entrusted, but added  "what cannot be accepted is the fallacy, cunning moves, from someone one would least expect, or maybe it should have been expected. I don't think so." He also said that the government had a "moral debt" to the military and police force, describing the Lopez Meneses protection scandal as an issue about "people who commit errors."
In his acceptance speech, Maj. Gen. Cabrera said he was aware of the responsibilities he was taking on, "but fortunately I have the path and the route left by Admiral Jose Cueto Aservi…. of whom I am honored to succeed, and who knew how to make the best decisions for the good of the joint command of the Armed Forces."