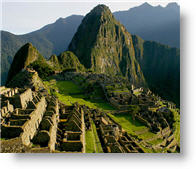 Peru's government is going ahead with afternoon visits to Machu Picchu, a previously announced move aimed at spreading out the number of visitors to the former Inca citadel.
The Culture Ministry announced towards the start of this year that it planned to offer an afternoon entry period to the site in order to even out the load of visitors at the ruins at any given time. Currently about 80% of tourists visit the site in the morning.
Also, the overall number of visitors has ballooned at Machu Picchu, Peru's top tourist attraction, in recent years to a daily rate well-above that recommended by UNESCO.
It wasn't until Wednesday that the ministry published a resolution in the official gazette El Peruano announcing a six-month trial period, with a promotional rate for Peruvians and foreigners legally residing in Peru.
The afternoon entry to Machu Picchu will start at 1 p.m., and will cost adults 45 soles (about $15) and children 22 soles (about $7.50).
The move comes amid ongoing concern about Peru's handling of tourism at Machu Picchu. The site is the main attraction for the hundreds-of-thousands of visitors to Peru every year, but cultural experts are concerned that the influx of tourists could cause severe damage unless properly managed.
In 2008, Peru agreed to limit the number of foreigners to Machu Picchu at 2,500 a day, however last year the average daily number of visitors was over 3,200, the Peruvian Travel Trends blog wrote. The vast number of those visitors arrive at Machu Picchu in the morning.