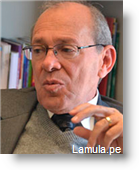 Ten years after Peru's Truth and Reconciliation Commission released a report on the country's internal conflict, most of its recommendations have not been implemented.
The commission, which was led by noted academic Salomon Lerner Febres, called for government reforms as well as reparations for victims and their families.
On Saturday, Lerner Febres said that the Peruvian state and society still have a debt to pay the victims of the internal conflict, which led to some 70,000 deaths and thousands of other abuse cases. The victims of the most serious crimes were in most cases poor, rural indigenous people who were caught in the cross-fire of state security forces and Shining Path rebels, who began the conflict aiming to overthrow the entire government system.
Three presidents have been in office since the report was released, but none of them have taken the initiative to implement the reforms, he said, according to daily La Republica
"The report is there, they can see the recommendations. They are clearly not fulfilling them, a lot is left to do," Lerner said. "We hope for progress, because we all want a peaceful country. There are a series of reforms lacking, public policies, health, education, justice and also a fair treatment of the victims, paying them reparation."
"We want things to improve in our country, not only in the economic landscape, but also the ethical and in the understanding of all Peruvians," Lerner added.
The 12-member Truth and Reconciliation Commission, CVR, set up during the transitional government of President Valentín Paniagua following President Alberto Fujimori's resignation by fax and the ensuing chaos of corruption scandals, spent two years travelling around the country to gather testimonies of the 20-year conflict from peasant farmers to business owners and military personnel, to obtain a complete picture of the events.  The nine-volume report, an in-depth report of events and analysis of the reasons behind them, continues to be vilified by not only the military and the conservative faction of the Catholic Church, led by Cardinal Cipriani, but also by supporters of the administrations that governed the country at the time — President Belaunde's Accion Popular party, President Alan Garcia and Apra, and President Alberto Fujimori.