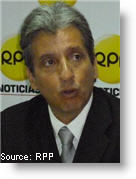 Peruvian Environment Minister Manuel Pulgar-Vidal said the upcoming United Nations-organized climate negotiations in Lima are "key" to reaching a global deal next year to stem climate change.
Pulgar-Vidal, an environmental lawyer, denied that the talks are only "preparatory" for countries looking to sign a deal in Paris 2015.
"Lima isn't just a preparatory meeting. It is a key meeting and it should leave things very well-advanced to sign a climate agreement in Paris next year," he said, according to state news agency Andina.
Diplomats, business leaders, celebrities and nonprofit organizations from around the world will converge on Lima from December 1 to 12 to participate in the event, either directly during the talks or at one of the many side conferences.
Stephen Leahy, a senior environmental reporter for the Inter-Press Service News Agency, wrote in Rabble.ca that the hope of the Lima meetings is to have the first complete draft of a new global climate deal.
"However, this is like writing a book with 195 authors. After five years of negotiations, there is only an outline of the agreement and a couple of 'chapters' in rough draft," he wrote.
He said: "Climate science is clear that global CO2 emissions must begin to decline before 2020 — otherwise, preventing a 2C temperature rise will be extremely costly and challenging.
However, emissions in 2014 are expected to be the highest ever at 40 billion tonnes, compared to 32 billion in 2010. This year is also expected to be the warmest on record.
Leahy added that the success of the talks will depend a lot on Pulgar-Vidal, who, as the COP20 president, "determination and energy will be crucial" to advancing the negotiations.